Rodney Mullen is a legend of skateboarding
---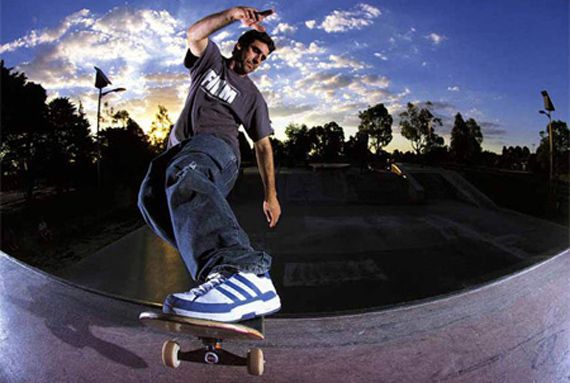 Rodney Mullen is a legend of skateboarding
Rodney Mullen is a professional skateboarder originally from the town of Gainesville (Florida) was born on 17 August 1966. It was he who played a major role in the promotion of skateboarding in the USA and created almost all the basic tricks.
It all began for Rodney January 1, 1977 when he met friends of his sisters who had also started skateboarding. The father was originally against his son's Hobbies, but he promised to stop training if they get a serious injury.
All his free time the young skater hones the skills of riding in the freestyle. And in the same year, participates in the Boys Freestyle Contest which was held at Kona skate Park (Jacksonville) and ranks 3rd. It was enough to attract the attention of skateboard manufacturer Bruce Walker and for several days he becomes a rider for Walker Skateboards. The next 3 years, Rodney claimed first place in every tournament in which it participates. Only in Florida he had 30 wins, with the same success he won in California.
In the early 90's Mullen gets a Pro team Plan B. It is the founding team Mike Ternasky will affect the style of riding Rodney, and in the ' 92 video "Questionable," he demonstrates an absolutely new, previously unknown tricks.
In 1994, in connection with the death of Mike Ternasky, Rodney leaves Plan B and decides to create his own team. And in 1997, the skate world will see A-Team. Which until 2000 actively promoting skateboarding in the world.
In early 2000, Rodney was invited to play in a movie. He made his debut in the movie "gleaming the cube" duplicating Christian Slater. Also in the shooting was attended by famous skaters Tony hawk and Mike Valely. The climax of the film is the 2 minute solo by Rodney which to date has impressed all skaters around the world and people far from this sport.
In 2002 he won in the category "SkateEP of the year" at the Transworld Readers Choice Awards.
Of course today, Mullen is considered the most influential skater in history. The Almost Skateboard Company owner and rider of various brands. Also in 2003 he released his autobiography "How to skateboard and not kill yourself".
Videos,History,People,Winners,Champions,Facts,news,Our world,It's interesting,Sport