Interesting facts about Olympic games
---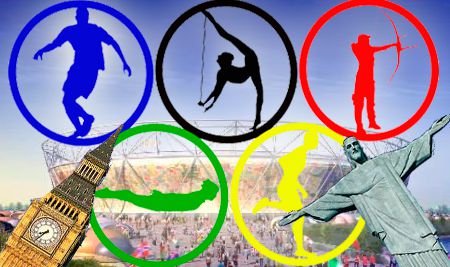 • Since 776 BC in the year 393 ad, the Olympic games, celebrated as a religious festival, but soon the game was closed because they were considered pagan (the Olympiad was held for the Greek God Zeus). In 1894, a French educator Baron Pierre de Coubertin, proposed a revival of the ancient tradition, and since the modern summer Olympic games were born.
• The first Olympic summer games were held in Greece, where most medals were won by Greece (47 medals)
• The first winter Olympic games were held in France, in Chamonix in 1924.
Norway has won the most medals at the winter games (263)
• The United States has won more medals in the summer Olympics than any other country (2,189).
• 5 Olympic rings represent the 5 main continents of the world – Africa, America, Asia, Europe and Oceania. And every national flag in the world includes one of the five colors of the rings (left to right) blue, yellow, black, green and red.
• Until 1994 the Olympics were held every 4 years. With the advent of the winter Olympics, it is held every 2 years.
• The first Olympics, which was broadcast on the American channel CBS, was held in 1960 in Rome.
• No country in the southern hemisphere has ever hosted a winter Olympic games.
• Three continents – Africa, South America and Antarctica-have never hosted an Olympics.
• A record 202 countries participated in the summer Olympic games in 2004 in Athens.
• Speed skater Bonnie Blair won 6 medals in the winter Olympics. More than any other American athlete.
• Nobody has won more medals in the winter Olympics than Bjorn Daly, the famous Norwegian skier.
• Larissa Latynina, a gymnast from the former Soviet Union, finished his career at the summer Olympic games with 18 medals - more than anyone in history.
History,People,Facts,Our world,It's interesting,Sport